People travelling in their cars on motorways have been asked to get M-Tags after the ruling of Lahore High Court, otherwise they will not be allowed enter the motorway. In an announcement on their official social media platforms as well as NHMP FM-95 radio, National Highways & Motorway Police (NHMP) has announced that as per the decision of Lahore High Court, the authority will be implementing the mandatory M-Tag implementation from 7th December for vehicles using M2.
M-Tag is now mandatory on motorways. pic.twitter.com/O7M5Co07fU

— National Highways & Motorway Police (NHMP) (@NHMPofficial) December 4, 2021
M-Tags are basically electronically readable chips that are usually pasted on the front screen of the car and the automated electronic reader at the toll plaza reads the chip that contains vehicle's details as well as toll tax money that has been credited to the chip, and allows the vehicle on the motorway by lifting the barrier. It makes everything quick and eliminates the hassle of handling money right at the booth and reduces the chances of massive queues building up at the toll plazas in busy hours.  
The 3rd December's ruling by Lahore High Court also applies to other motorways converging on the M-2 Ravi Toll Plaza. So even if you are not traveling between Lahore and Islamabad, and you are traveling from some other place/city and your destination is Lahore's Ravi Interchange, then you will be asked to get the M-Tag. So you can say that this decision in a way will affect motorists from other provinces as well if they wish to travel through Lahore's Ravi Interchange toll plaza on their way to whatever city/area they are going to.
For the ease of the motorists that use motorways regularly, NHMP has also waived the requirement of official vehicle registration. Now all you have to do is take your original national identity card along with your mobile number and you will be issued an M-Tag for your vehicle. A valid driving license is a must of course. You can recharge your M-Tag online through Jazz Cash, U Paisa, and Easy Paisa etc.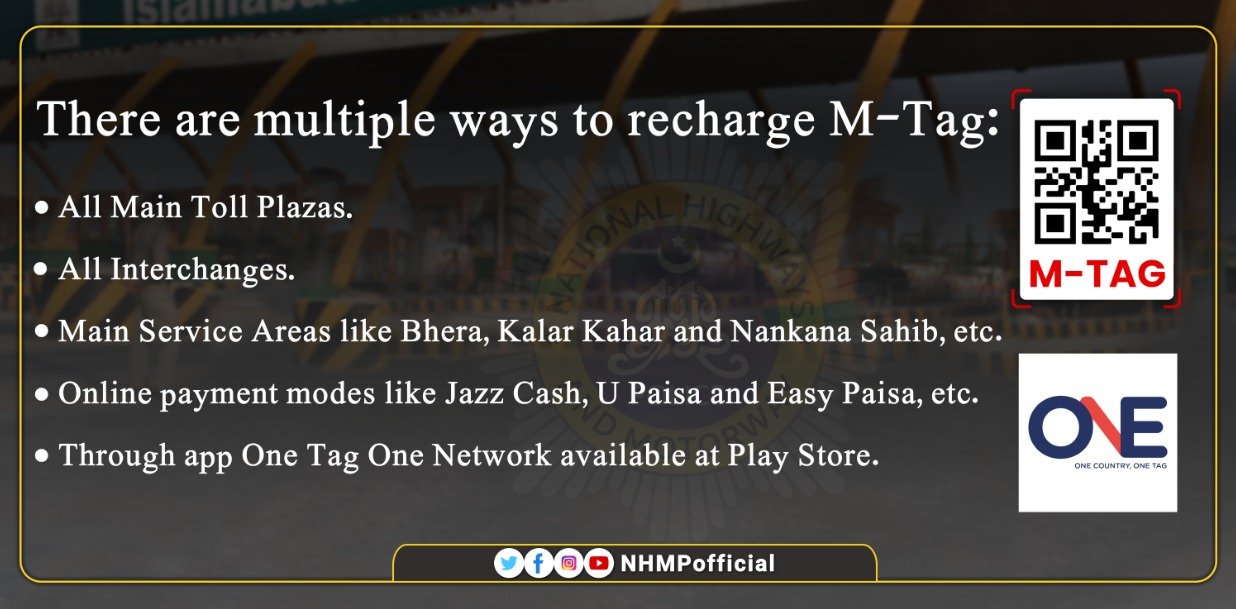 You can get the M-Tag for your vehicle from booths right before motorway main toll plazas that connect to M2 motorway, as well as main service areas like Bhera, Kalar Kahar, Nankana Sahib. NHMP has been vigorously campaigning after the special instructions of Inspector General of National Highways and Motorways Police (NH&MP) Inam Ghani to be able to fully implement the court's order as well as to keep the inconvenience to minimum caused by motorists who either remain unaware of the mandatory implementation of M-Tag or just decide to ignore it altogether. 
عدالت عالیہ کے احکامات کی روشنی میں 7 دسمبر، 2021 سے صرف ایم ٹیگ والی گاڑیوں کو موٹروے پر سفر کی اجازت ہو گی۔@InamGhani pic.twitter.com/sLXe70FEEn

— National Highways & Motorway Police (NHMP) (@NHMPofficial) December 5, 2021
In the past, there have been many similar campaigns to implement the M-Tags as a requirement to travel on motorways but for one reason or another, it was never fully implemented. Now it seems NHMP, backed by the LHC, is fully committed to get this court order executed in one way or another. So to make sure you do not get stranded at the motorway toll plaza after 7th December, make sure you get your M-Tag at earliest.