No one can deny the importance of hatchbacks when it comes to types of automobiles. They are small, they are usually cheap, and far easier to drive in cities especially where parking is an issue. Besides that, since they are small, they are mostly fitted with small engines, hence they are fuel efficient as well.
So if you are in the market for a used hatchback, here are our top 5 recommendations.
1 Toyota Vitz
The Vitz is hands down the king of hatchbacks in Pakistan. It offers almost a sedan-like cabin space, has pretty decent shape overall, the build quality is good as well since they are made in Japan (quality control is far better there than what we have here unfortunately), and it comes with Toyota's undeniable reliability. 
Vitz was launched in 1999 and it is currently in its 3rd generation which was launched at the end of 2010 and a facelift of the same generation was launched in 2017. In under 2 million PKR, you can easily buy the earlier models of the 3rd gen Vitz, or a really good piece of the late models 2nd gen Vitz. Engine and transmission are pretty much the same, the shape is different. Cars coming for Japan are called Vitz whereas if you have an Australian or British import, it is called Toyota Yaris.
Considering the amount of Vitz hatchbacks imported in Pakistan, you can easily find its parts in most parts of the country. The used car parts markets are filled with Toyota Vitz parts; from engine and gearbox to body parts, to suspension, you can find literally everything. The price of the parts depends on the availability as well as the type of the part. But usual maintenance parts like oil filters, air filters, and brake pads etc. are easily available everywhere. Safety-wise, you got all the good stuff that is standard in Japanese cars but might not be available in locally made cars.
It comes with a 1000cc 3-cylinder engine that is known for being noisy and vibrating all the time. That is one aspect of the car that kind of goes against Vitz, but then again, that engine is tough as nails and super reliable even with all the shaking and growling. There is also a 1300cc engine option but it is kind of rare and if you can find that, then you will be pretty happy with your purchase. The Vitz comes with a continuous variable transmission as standard. 
If we have to talk about the negative of the Vitz, well as I mentioned before, the engine can be a bit annoying in some cases. Other than that, a major thing about Vitz under 2 million is that you are basically buying an old used vehicle. So even though Toyotas are tough and reliable, you don't know how the previous owners used the car that you are buying. But as I mentioned above, its parts are readily available all over Pakistan so you can always fix whatever is wrong with the car. 
2 Suzuki Cultus
For the sake of having a relatively new vehicle in the list, we will only be talking about the newly launched Suzuki Cultus, and not the previous model. The new shape of Cultus was launched in Pakistan in April of 2017. A fun fact, if you want to call it that, the Cultus was launched at the price of around 14lac in 2017. Now the price is touching 2 million for the brand new car.
The new Cultus was launched with Suzuki's 3-cylinder 1000cc K10 engine. The engine and the 5-speed manual gearbox available in the car are a pretty good combo. The engine provides decent torque that makes driving in the city's slow traffic quite easier. If you are in 2nd gear, and the car is about to come to a halt, just give it a little race and the car will happily speed up.  Basically you don't need to change gears all the time. 
Since this engine was previously introduced in WagonR years ago, people are fairly familiar with it and maintaining it is not a problem at all. 
Let's talk about how the car is to live with. Well since you will be buying 2018-2019 models of the car, these are fairly new years compared to the Japanese vehicles on the list. So yeah, you will be able to buy a relatively new car there. That means not many miles on the engine as well on the body and chassis of the car. Let's be honest, the roads we have in Pakistan are not great. The older the car gets, the more beating its suspension will get, and that eventually leads to integrity of body and chassis getting weak with the passage of time. You eventually start hearing creaking and rattling noises which are pretty evident in older cars. So that won't be a lot of concern if you are buying a "relatively new" used car.
Since Pak Suzuki is everywhere, getting hold of parts is not an issue. They are slightly expensive to be fair but they are easily available. Buying knockoffs is never a good idea. So it is best to use genuine replacement parts.
If you are feeling adventurous, you can always try the Cultus AGS. AGS stands for auto gear shift. It is Suzuki's system for automating the gear shifts. It is not like the conventional automatic transmission nor is it like CVT. In AGS, there is an actuator mounted on the gearbox of the car that is electronically controlled and changes the gear according to the car's needs. So if you are driving the AGS for the first time, you will feel the gears shifting like when you change gears in a manual car. The gap between gearshift in AGS is similar to a manual where you press the clutch pedal, change the gear, and release the pedal again. So the feeling is kind of similar. 
If you want to spend all 2 million of your budget, you can always get the brand new Suzuki Cultus VXR for Rs1.9 million. 
3 Mitsubishi Mirage
Another imported vehicle on our list is the Mitsubishi Mirage. It might be a little obscure for some of our readers but it is a pretty strong contender nonetheless. Mirage has been in production for like 4 decades now with the first model/generation being launched in 1978. But since we are talking about relatively newer models, in under 2 million PKR, you can easily find yourself a good used 2013-2014 Mitsubishi Mirage (6th gen). 
Mirage, like Vitz, also comes with a 1000cc 3-cylinder engine and a CVT gearbox. But unlike Vitz's 1KR engine,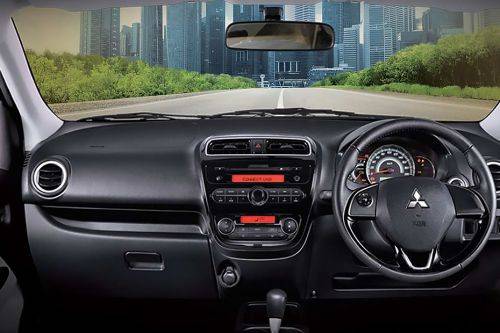 Mirage's engine is pretty smooth and vibration-free. That is definitely one of the biggest plus point of the Mitsubishi Mirage. 
Safety-wise, you get traction control as standard, there is ABS and EBD as well as multiple airbags depending on the variant. 
Unlike Vitz, Mirage does have smaller aftermarket support. Its maintenance parts are not an issue, but finding specific body parts or engine/electrical components can be an issue in some cases. 
The interior kind of feels a bit dated compared to Vitz. Vitz has a modern and contemporary interior design whereas Mirage feels a little old school. The rear seating is not as spacious as Vitz. The drive however feels better compared to Vitz. 
4 Suzuki WagonR
It was one of the first relatively newer-model vehicles launched by Suzuki Pakistan followed by the new Cultus and then the new Alto. The WagonR was launched by Pak Suzuki in 2014. At the time of the launch, it was not supposed to be the replacement of any car, but a new addition to Suzuki's lineup at the time. Although initially there was some resistance from the buyers due its unconventional shape and tall height, soon people realised that this car is more than what it seems. 
WagonR was launched locally by Pak Suzuki with a 3-cylinder 1000cc engine mated to a 5-speed manual transmission. It's the same motor you find in Cultus. Later Pak Suzuki also introduced the auto gear shift aka AGS version of WagonR but I guess they are sort of hard to find in the used car market.
As mentioned above, one of the best features of this engine is its torque. For its size and overall performance, the car makes such a nice smooth torque that makes driving it in the city so easy. You don't have to worry about changing gears all the time. It is arguably the most preferred vehicle by people who drive vehicles in ride hailing services. I am sure you have seen enough WagonR memes by now.
It's cheap to maintain, cheap to run since the engine is pretty fuel efficient, and has good cabin room for a small hatchback. The headroom is so good. Maybe the best in its class thanks to its tall height. There is no point talking about the visuals of the car, since beauty is subjective. But due to its tall height, some might not consider it as a good looking car. But as I said, that is subjective. 
Since it's a locally produced car, you will never have to worry about not being able to find any part. Suzuki has a large countrywide 3S dealership system. Even if you do not want to go to the 3S dealership, you can always go to 3rd party mechanics and part shops that sell genuine parts and literally everything is readily available all over Pakistan. 
Like Cultus, if you want to buy a brand new car, the top of the line WagonR AGS is available for just over Rs2 million, or if you'd like some spare change and don't mind a manual car, the brand new WagonR VXL is being sold for Rs1.85 million.
5 Toyota Passo
The 2nd Toyota on our list and also the last car, is Toyota Passo. Here is the thing, Passo is basically the same car as the Vitz. You get the same engine and gearbox configuration in Passo as you get in Toyota Vitz; 1000cc 1KR engine and CVT.
Where Toyota has pitched Vitz to the youths looking to buy their first car, Passo is pitched more towards young families who are looking for their first car. Passo has softer styling and the interior is a bit more child-friendly as well. In some models you even get the so-called sofa seat in the front (bench seat), and the gearshift mounted in the steering column so that you get more space in the front. The interior styling is also softer in Passo than in Vitz.
Since Passo shares most of its electrical and mechanical parts with Vitz, you do not have to worry about maintaining your car. Most parts are swappable if not exactly the same. However since Passo is not as common as Toyota Vitz, the body parts can be a hassle if you are living in a smaller city where you do not have a thriving auto market. Both Vitz and Passo end up with a choked catalytic convertor sooner or later, and replacing that can be a big cost. Removing it is not ideal because not only the car will make a lot of noise, it is also bad for the environment. 
Passo being a JDM car comes equipped with all the modern safety features according to its variant. Under the 2 million bracket, you can get yourself a nice 2010-2014 model depending on the registration year as well as condition of the car and the available variant. The Passo Moda, the newer model of Passo unfortunately is out of this budget of 2 million.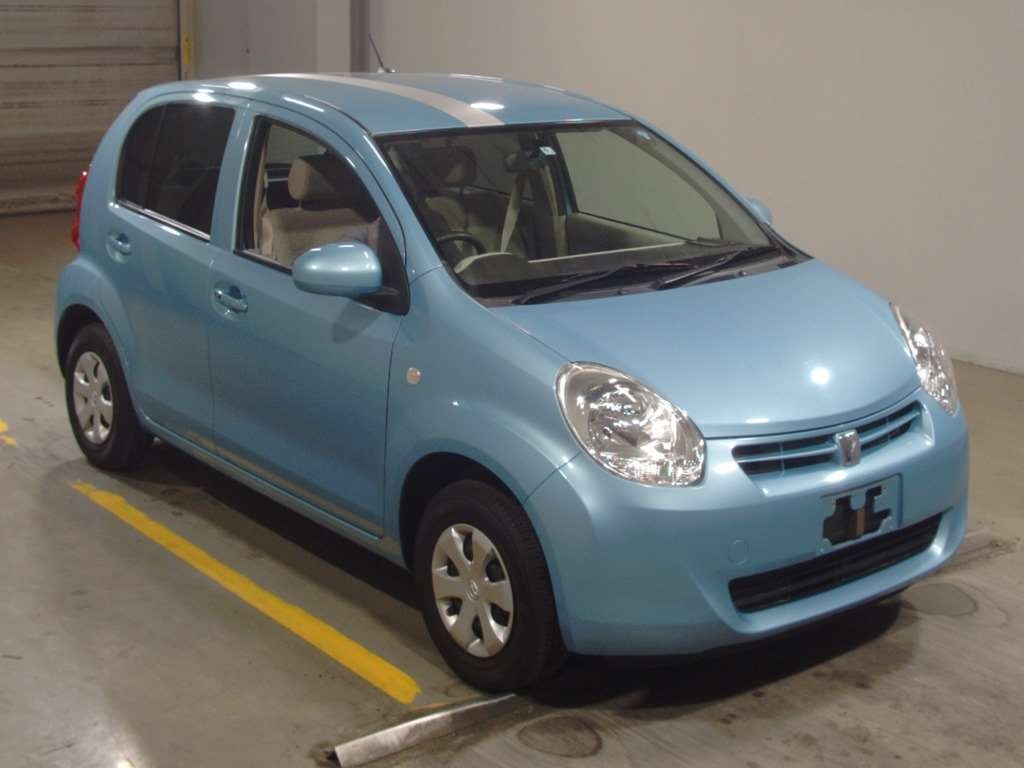 So this is our list of top 5 used hatchbacks you can buy in Pakistan under 2 million. Honourable mentions include Suzuki Swift, Suzuki Cultus older shape, and Daihatsu Cuore. We have deliberately skipped 660cc cars from this list and will make a separate blog for those. If you think we have missed any used hatchbacks, do let us know in the comments section below.
If you have any of these vehicles, and are thinking about upgrading, book an appointment with CarFirst now. In just 45 minutes, you can sell your car on the spot.